The golf grip is the ESSENTIAL part when playing golf.
That is WHY, when deciding between the different size grips, it is ENTIRELY UP TO YOU!
This article will show you the similarities and differences of the standard and midsize grips, and I will help you decide which grip suits you BEST.
There are many kinds of golf grips, so we hope you will find YOUR proper size grip in golf.
The Importance of the Golf Grip
The golf grip is like the brain of golf. Without it, there wouldn't be golf in the first place, and you wouldn't be able to play golf!
Having the correct grip will only make your golfing experience better and more fulfilling.
It knows what grip you are most comfortable with to adjust your golfing equipment and experience.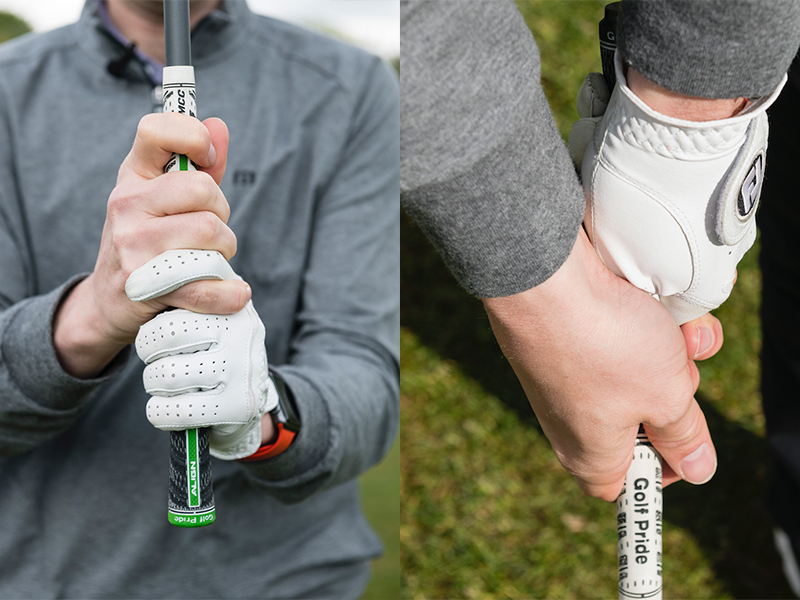 Source: Golf Monthly
In short, it is NOT GOOD if you try a grip, and it is either TOO SMALL or TOO BIG. Either should NEVER happen when choosing which grip to use.
Do you know what they say? You can NEVER have too much or too little. Using the correct golf grip size can MAKE your game!
BALANCE IS KEY!
The Golf Grip Sizes
The PGA TOUR Superstore provides a size chart for golfers' different grip sizes can use.
These sizes are the following: junior, undersize, standard, midsize, and jumbo.
Source: PGA TOUR Superstore
As shown above, to measure your hand to determine your grip size, use a ruler and measure your hands from the wrist crease to the tip of your middle finger (the middle finger being the longest).
The same image also provides the glove sizes that compliment the grip size.
For example, if you choose a standard grip size, men's M or cadet M is your glove to go.
What is a Standard Grip?
The Standard grip is what the name implies. It is THE grip that your average golfer uses.
The standard size grip is used by golfers that have a measurement of 6.6 – 7.5 inches.
In layman's terms, the grip is used if your hand size is MEDIUM or a bit large.
Since it is the STANDARD of golf, you've probably already used it before.
If your hand is a men's medium and you already feel comfortable with your first-ever club, then you are already set with standard grips!
Benefits of the Standard Grip
The most significant benefit of standard size grips is that the majority are familiar with this grip.
It helps identify what the standard grip feels like to experiment and see whether or not this grip is best suited for you or not.
Having a foundation to the golf grip is always a significant benefit in identifying a hold from the other.
Another massive benefit to the standard is that many golf clubs are of this size. Meaning its availability is second to none.
Since this is the standard in golf, many would choose this grip to feel its grip pressure, proper grip size, and overall golf grip before switching from one hold to another.
What is a Midsize Grip?
Golfers use the Midsize grip with hand measurements of 7.6 – 9 inches.
These are usually people that have a LARGER GRIP than your average golfer.
Compared to the smaller grip size of the standard grip, using a midsize golf grip as a first-time golfer may feel weird due to its larger size when you grip the club.
The midsize is popular for golfers who want to exert more power into their swings and those who think the standard is too small and less powerful to use.
If you want to use a club with a SLIGHTLY LARGER GRIP to fill the gap, then the midsize grip is for you!
Benefits of the Midsize Grip
A midsize golf grip is best complemented with golfers that use an oversized glove. This lets the club rest better in the golfer's hand than a normal-sized glove.
Another benefit to the midsize is that it can help people struggling with ARTHRITIS.
People with arthritis can have a much smoother and easier exmore accessible playing golf.
The grip dampens vibrations from the golf club to the golf shots and provides more space to work with. It also lessens the grip pressure for the player.
How to Choose The Correct Grip
We will guide you in choosing the correcting grip using categories! This will help you in identifying each grip's benefits.
Beginner-friendliness (Winner: Standard)
The FIRST grip that a player uses when starting golf is the standard.
The standard helps players who want to get into the sport feel and control a standard golf club.
Players can grow a foundation with the standard and see for themselves if they want to change the pace of their game or not.
Accuracy (Winner: Standard)
For golfers sensitive about accuracy, the standard is the grip for you!
Since the standard requires less power to operate than the midsize, it is much easier to accurately shoot the ball where you want it to go.
Golfers That Have Arthritis (Winner: Midsize)
The midsize provides its user with more shock dampening and comfortableness.
Many golfers have arthritis, so the midsize is like a MIRACLE for them because it allows them to play the sport despite their setbacks.
If you have arthritis but are very eager to play, get midsize!
Ball Flight and Power (Winner: Midsize)
While standard grips give you accuracy, midsize grips provide you with POWER.
In terms of ball flight, golfers playing with a midsize grip will experience a better ball flight due to it not requiring the same grip pressure as standard.
When a grip is too small, it will result in tight grip pressure, causing your arms to stiffen up, resulting in a bad shot.
When comparing the different grips, the midsize provides the golfer with much more room to work with.
With less grip pressure, the golfer can focus his swing and put power in his swing compared to the standard, limiting the ability to insert more power.
Best Standard Grip Golf Clubs
These golf clubs are PERFECT for the standard grip people! I'm sure that swing will feel AMAZING if you use these!
1) Lamkin Crossline Standard
2) CALONG Golf Grips
3) Golf Pride MCC Plus4 Grips
Best Midsize Grip Golf Clubs
For the Midsize grip people, these are the clubs TO GET! Having quite large hands can be a hassle, but with these clubs, they'll let you feel like you've always had a knack for golf!
1) Yamato Black Nature Rubber Golf Grips Set
2) SAPLIZE Golf Grips
3) Geoleap Glory-M Golf Grips
What Are The Other Grips Used By Golfers?
Although these are not the main focus of this article, it helps to know what they are in case both standard and midsize grips are NOT for you.
Jumbo Grip
Golfers use the Jumbo size grip with hand measurements of over 9 inches.
These are usually the OVERSIZED GRIPS that many golfers talk about when discussing different grips.
Jumbo grips are pretty rare since you need a hand measurement that is over 9 inches to even fit one, hence the "oversized grip" name!
If a standard grip user feels like the midsize golf grips feel like an oversized grip, then the same can be said for a midsize golf grip user that tries out jumbo grips for the first time.
This is quite rare since the exact grip is best for people with VERY LARGE hands.
Undersize Grip
Golfers use the undersize with hand measurements between 5 – 6.5 inches.
These are usually used by teenagers or growing children in their adolescence. It is also used by those that think that the standard is too big for them.
The difference may be pretty slight, but it can either MAKE OR BREAK the game for you.
We suggest getting undersize if the standard is too big for you or if you think it is uncomfortable enough to use in the long run!
Junior Grip
Golfers use the Junior grip with hand measurements below 5 inches.
These are usually used by children or those with tiny hands. These are often regarded as the UNDERSIZED GRIPS of golf.
If you feel like the standard is too large for you, then the option of switching to a smaller grip size in junior grips is worth considering!
What Are The Four Main Types of Grips?
Not only do you have to take note of the grip size of the golf club, but you also have to consider the MATERIAL of those clubs. These are the four types of grips in the golf club market.
Rubber Grips
These grips, over time, have evolved into being more than just rubber grips.
Golf manufacturers have adapted many rubber-blend compounds to have a great feel and feedback for these grips.
Oversized grips are often rubber due to their durability and smoothness to suit those who have arthritis.
Corded Grips
These contain cord materials that make them durable and sturdy. It is also great during any kind of weather, especially wet weather.
If your hands sweat a lot, then these are PERFECT for you!
The downside to this grip is that they are hard on the hands, so it will hurt the hands over time depending on how long the user has used it.
Hybrid Grips
These combine the benefits of both rubber and corded into one. It has the feel and responsiveness of rubber, and it has excellent weather control of the cord.
Due to its combination, it is both durable and amazing to feel with hands. Hybrid can be used for long periods.
Products like Golf Pride and Lamkin Grips are all hybrid, especially the LAMKIN grip that utilizes a firm, all synthetic EPDM compound.
The ONLY downside to this is because of the combination. It is arguably the MOST EXPENSIVE in the market.
Leather Grips
The MOST COMFORTABLE out of all these is the leather.
It gives a traditional look; it is tacky and durable! Leather's most significant benefit is it's a natural shock dampener, meaning that you can receive feedback without stingers.
Oversized grips are often leather for their shock dampener and the ability for golfers to play with arthritis.
Final Verdict: Which Grip Suits You Best?
Source: golfpass.com
If I were to choose between the two, I would choose the MIDSIZE golf grips.
This is mainly because my hands are pretty big, they get uncomfortable fast, and they sweat fast.
The MIDSIZE golf grips resolve all those issues and fit my preferences, especially the oversized grips feel.
Going for the midsize grips is perfect for me because the BENEFITS that the midsize provides are what I need when I golf.
The standard is best for those with medium-sized hands and those already comfortable with the grip feel.
The standard is what a typical golf club or golf store typically sells, so if the same grip already feels good for you, then I HIGHLY RECOMMEND staying with the standard.
If you think that the standard is too small for you, but the midsize is too big, you can always add a few extra wraps in a standard to fit your needs.
Go For the Standard Grip If…
You already feel comfortable with the grip
Your hands are medium-large size
You want to get a better feel and control of the club
You are sensitive to the accuracy of shots
You want an excellent putter grip
Go For the Midsize Grip If…
You have a large hand
You wear an oversized glove
You want an oversized grip
You want more power on your shots
You are struggling with arthritis
Conclusion
At the end of it all, choosing the right grip to use is similar to what shirt you'd much rather wear.
The best golf grip is the one grip that makes you feel COMFORTABLE, SATISFIED, AND CONFIDENT.
These new grips have advantages and disadvantages, but knowing what grip best suits you when playing golf is essential!
It may take a while to find the right grip, but once you see it, you will soon realize that you will HIT SHOTS that you would never hit when using a grip that OTHERS think is best for you.
I hope you understand what golf grip is for you and that your golfing experience drastically changes!
In case you forgot how to measure your hand, you can measure from the creases of your wrists to the tip of your middle finger.
Thank you for reading!